In this tutorial I want to introduce you to my method of drafting a basic panty pattern. A basic pattern is usually used as a foundation for future pattern manipulation. However you can use this pattern directly to make a panty. This is the first article of a series that will deal with pattern construction, pattern manipulation and sewing of panties. So many exciting things to come!
Let's get started!
Materials
For drafting on paper:
Transparent Drafting Paper
Pencil
Ruler (50 cm length is ideal)
Square
Dividers (optional)
Taking Measurements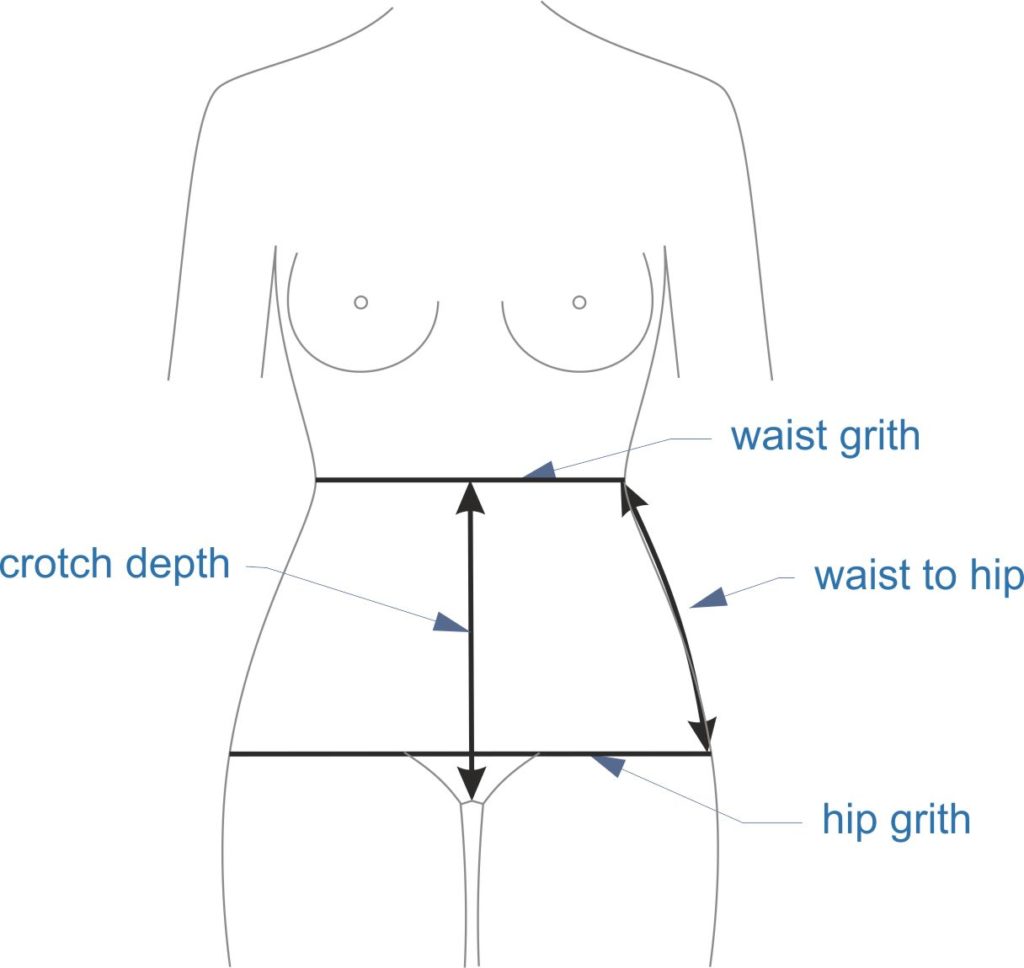 You only need to take four measurements for this pattern! Correct measurements are really important for a fitting pattern, so do this step very carefully. If possible, ask someone else to measure you.
Measure the waist girth first. The waist sits at the narrowest part between the bust and hips, usually around 2 cm over the belly button. After measuring the waist line, tie an elastic tape around your waist, cause your waistline will function as a reference line for the other measurements. Then measure the hip girth. The hip girth is not measured over the hip bones but over the strongest part of the hips, that is over the bottom. Now do the vertical measurements: 'Waist to hip' is measured at the side, the measuring tape follows the curve of the hip. The 'crotch depth' is measured in the front with a straight measuring tape.'Crotch depth' should be longer than 'waist to hip'.
Waist girth
Hip girth
Waist to hip
Crotch depth
Gusset length = 14 cm (The gusset length stays the same trough all sizes, so you don't need to measure it)
Drafting the Pattern
In this example I draft for a size 38(EU), 12(UK) or 10(US). I use the following measurements:
Waist girth = 72 cm
Hip girth = 97 cm
Waist to hip = 22 cm
Crotch depth = 27 cm
Gusset length = 14 cm
Step 1: Guidelines
AD = ((waist girth)/4) * 0.9 (The 0.9 is for the stretch of the fabric, use 0.85 for very stretchy fabric and 0.95 for slightly stretchy fabric)
AB = waist to hip
BE = ((hip girth)/4) * 0,9 (Use the same stretch percentage as in AD)
AC = Crotch depth
CF = 4 cm (This measurement stays the same trough all sizes)
Mark G halfway between D and E and draw a 8 mm long line perpendicular to the line DE
Step 2: Drawing the front panty
AL = 25 mm
Draw the curve from L to D
Draw the curve from D to E
Draw a circle around D with radius r = 0.6 * (waist to hip)
Mark H at the intersection point
Step 3: Drawing the front panty
Connect H and F with a line
Draw a circle around H with radius r = (2/3) * (length of line HF)
From the intersection point draw a line of 25 mm perpendicular to HF and mark J
Step 4: Finishing the front panty
Draw the curve from H over J to F
Remove all unnecessary guidelines
The front panty is finished! 🙂
Step 5: Drawing the back
LK = 10 mm
Draw the curve from K to D
AO = (crotch depth) + ((1/4) * gusset length)
Draw the curve from O to P (Measurements are in the sketch. They stay the same trough all sizes.)
Step 6: Drawing the back
Draw a circle (radius r = 20 mm) around H an mark M at the intersection point
Connect M to P
Draw a circle around M (radius r = 20 mm) and mark N at the intersection point with MP
Mark Q halfway between N and P and draw a 15 mm long line perpendicular to NP
Step 7: Finishing the back panty
Draw a curve from H to P following your guidelines
Remove all unnecessary guidelines
Step 8: Drawing the gusset
CO = gusset length (14 cm)
Connect F and P with a smooth curve
Step 9: Finishing the pattern
Mirror the pattern pieces at the center line
Move down the waistline for a midi or mini style
Add seam allowance
You finished your pattern and you're ready to sew your panty! I'm sure there are some tutorials out there in the internet, that teach how to sew a panty: 🙂 I'll also show you my way of sewing a panty in one of my next articles.
But at first I want to focus more on pattern making and the next articles will deal with digital pattern making. On the basis of this panty pattern I'll show you how to draft and manipulate patterns in Valentina and Corel Draw. Exciting, isn't it !?
If you have any troubles drafting the pattern, just ask in the comments, I'll try to answer as soon as I read it! 🙂